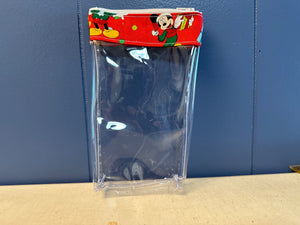 Contact Lens Bag - Red Mickey Christmas
Contact Lens Bag
The flexibility contact lens brings is amazing, but sometimes the bottles for the contact lens solution or the case for the lenses are not.  So many times, I have not screwed the lids on the cases tightly enough or the top of the solution has popped up, which means that the solution gets the other items in my medium travel bags a bit wet.  To solve that problem, I have designed a bag specifically to hold a contact lens bottle and case!  That way, your medium or large travel bag will stay even more organized.
This bag is approximately 5.25x8x2.25 inches, which is big enough to hold a standard bottle of contact lens solution as well as the case and some extra contact lenses.  It is still small enough to comfortably fit in your medium or large travel bags, so you can keep your toiletries all together. It is made up of clear vinyl and a strip of adorable fabric on top.  There is one zippered pouch.  It is a great gift for the organized traveler!
Thanks for cruising my shop!
Amy
*This listing is only for the bag-NOT for the contents of the bag seen in the pictures.*
**Fabric placement may be different from the picture shown, but it will be similar**
---
We Also Recommend
---