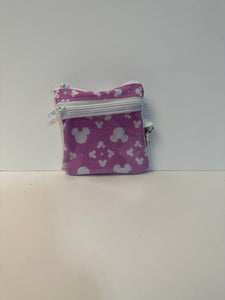 Jewelry Bag - Pink Mickey Silhouettes
Do you like to wear jewelry on a vacation?  Packing jewelry can be a hassle because you have to take jewelry on/off at the airport.  Plus, some of your pieces can be so small that they can easily get lost!  I designed a jewelry bag for you to take on your next vacation!
There are 2 main features to this jewelry bag design: size and pocket number!  It is approximately 4.5" wide and 4.75" tall.  I made it this size with the alex & ani bracelets as well as the pandora jewelry in mind!  The jewelry bag will not only help keep all your jewelry organized but it will also add a bit more protection to your bracelets.  There are 3 pockets!  The main, unlined fabric pocket is the full 4.5 x 4.75." of the bag, and the 2 clear vinyl pockets are approximately 4.5" wide and 3.5" tall.  That means this is the first bag I've designed with 2 clear pockets and 3 total zippered compartments!  There are so many ways this bag can help keep you organized.  Plus, there is a clip on the side to give you more options to use this jewelry bag. 
The unique size of the bag plus the 3 zippers make this bag an organizational necessity!
If you want to see a quick video on how I pack these bags, please check out this video
https://www.youtube.com/watch?v=vY3d2MR0IYw
Thanks for cruising my shop!
Amy
*This listing is only for the bag-NOT for the contents of the bag seen in the pictures.*
**Fabric placement may be different from the picture shown, but it will be similar**
---
We Also Recommend
---