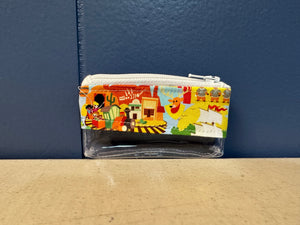 Floss Bag - Frontier Land
Floss Bags
This tiny floss bag was specifically designed to hold the perfect amount of floss picks for your trips.  Instead of just throwing the floss picks into your medium travel bag, you could be even more organized and have a designated bag just for your floss picks!  Plus, they would stay a bit more sanitary in this floss bag because they would be in contact with fewer things.
The floss bag is approximately 4x2.25x.5 inches.  It is made up of clear vinyl and a strip of adorable fabric on top.  There is one zippered pouch to hold the picks in.  Over 15 picks can fit in this compact floss bag.  It is the perfect addition for the organized traveler.
Thanks for cruising my shop!
Amy
*This listing is only for the bag-NOT for the contents of the bag seen in the pictures.*
**Fabric placement may be different from the picture shown, but it will be similar**
---
We Also Recommend
---