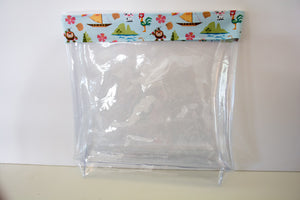 Large Moana Icons
Ears, whether in headband or hat form, are now a necessary item when planning a Disney vacation.  They are a way to not only show off your Disney style but to also pay tribute to the iconic Mouse that started it all.  In the midst of travel or riding wild attractions, it is important to keep your ears protected and organized, which is where my clear ear bag comes in handy!
This large zip bag is approximately 12.5x13," which means it will be easy to stick into a backpack or diaper bag.  It widens to about 3.5 inches from the bottom, which gives it a lot of flexibility to fit many style of ears! Because it is mostly clear, going through security will be much simpler and quicker!  With its squared off bottom and wide open top, it is designed to be functional and hold a variety of different objects (or multiple ears!).
Although it is not 100% waterproof, the vinyl will add extra protection if you decide to take valuables with you on attractions like Splash Mountain.  To clean it, all you need to do is wipe it down. This bag is an essential packing item for any Disney trip! You can put so many things in it!
Additional uses:
-Wet bag

-Cosmetics bag

-Travel bag

-Security bag

-Diaper bag organizer

-Purse organizer

-First aid bag / ouch bag

-Outfit organizer

-Hold wet swimsuits

-Project bag

-Medicine bag

-Toy organizer
Don't forget to sign up for my Happy Cruisers club for discounts, sneak peeks, and so much more!  To join, copy and paste this link into a new browser. http://bit.ly/happycruisers
Thanks for cruising my shop!
Amy
*This listing is only for the bag-NOT for the contents of the bag seen in the pictures.*
**Fabric placement may be different from the picture shown, but it will be similar and look cute!**
---
We Also Recommend
---