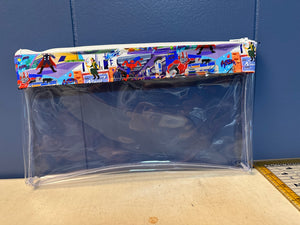 Makeup Bag - Avengers Campus
Isn't it great to get something free on a Disney vacation?  One of the best free things are park maps because they are free, useful, and a great keepsake!  Disney always changes both the inside and the covers of their maps, which means that these unique souvenirs are a perfect way to remember the different magical times you spend with your loved ones.
Of course, you want to keep your precious memories safe, and the map bags are a perfect way to do that!  These map bags are slim to make packing/storage easier, but they can hold a lot of maps. They are approximately 11.5 x 7" which means that the maps will have room to slip in and not get squished.  The map bags can easily fit in a backpack to keep while in the park. The clear vinyl will instantly bring a smile to your face when you see the cover of the map you used while on your best Disney vacation yet!
---
We Also Recommend
---