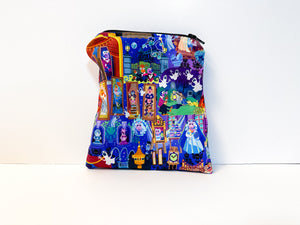 Privacy Pouch - Muppets Haunted Mansion
Let's make that time of the month a bit more magical by storing our feminine products in this privacy pouch! Because it seems like Disney security doesn't have to go through every single bag since they updated their security, I thought adding a small zippered pouch for period essentials (pads, tampons, etc.) would be nice.  Plus, it is perfect for at home use as well.  This privacy pouch is fully lined with cotton fabric, so if you need to clean your bag, just pop it in the washing machine on cold and tumble dry on low.  The privacy pouch is approximately 5.5" wide and 6.25" tall.  That is the perfect height to hold multiple days worth of tampons or a full rope drop to the kiss goodnight Disney day worth of pads.  Plus, you can roll up a fresh pair of underwear in there as well.  
Please note that fabric placement may be different than what is shown.
Once used, these bags are no longer eligible for returns, exchanges, or refunds.
This listing is for only the bag only, not anything else in the picture.
---
We Also Recommend
---