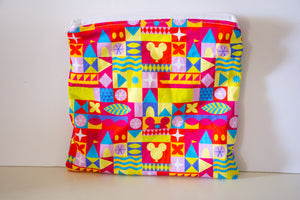 Reusable Sandwich Bag - Popcorn Bucket W/Mickey Keyring
This listing is for one reusable sandwich bag!  The reusable sandwich bag is approximately 8.25" long and 7.75" high, which is perfect for holding large sandwiches whether on a Disney vacation or at work.  This bag has a zipper closure, and it is lined with a food-safe fabric that is free of BPA, lead, PVC, and phthalates. This bag is larger than the standard ziploc sandwich bag, so you can fit multiple pb& j sandwiches in there or a large, fully loaded BLT club sandwich in this reusable bag  The lining is sewn separately from the bag so to clean just wipe with a damp cloth or rinse with water and let dry overnight and it will be ready to use over and over again. When the entire bag gets soiled just toss in the washing machine and air dry. Personally, I am using these bags to help with meal prep, so I can be healthier.  Plus, these bags are better for the environment than the hundreds of plastic bags I would use instead of these.
Please note that fabric placement may be different than what is shown.
Once used, these bags are no longer eligible for returns, exchanges, or refunds.
This listing is for only the bag only, not anything else in the picture.
---
We Also Recommend
---