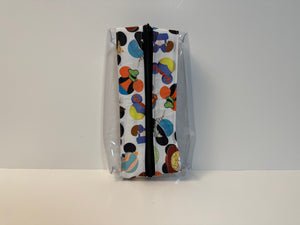 Small Boxy Bag - Mickey Characters
The Small Boxy Bag is all about versatility!  You can pack it in your suitcase, use it in your hotel or cruise stateroom, and you can even keep your Disney backpack organized with this compact bag.  Please note that this listing is for the Small Boxy Bag without the strap/buckle.  
It's a clear bag, so getting through security will be a breeze.  Also, when you are double checking your packing list, you will be able to quickly make sure you haven't forgotten anything.  The cute fabric touches to this see through bag adds a bit of Disney magic to this practical organizer. It is approximately 7.5 x 4 x 2 inches, which is just enough room to hold daily makeup without being too bulky.  
If you would like to see a demonstration of how these bags can be used, please check out the youtube video I made by clicking the link below.
https://www.youtube.com/watch?v=b_Q3EAMOoLk&feature=youtu.be
Possible Uses to Organize:
Make up

Snacks

Toys

Small Toiletries

Baby Needs

Sunscreen and other beach supplies

Accessories

Hair supplies

Socks and Underwear

Swimwear

Change of clothes for a child

Ponchos

Medicine

First Aid Items
To clean them, just wash them on the delicate cycle of your washing machine and hang/lay out to dry.  Do NOT put them in the dryer.
Thanks for cruising my shop!
Amy
*This listing is only for the bag-NOT for the contents of the bag seen in the pictures.*
**Fabric placement may be different from the picture shown, but it will be similar and look cute!**
***Some of the pictures are showing you how the bags are used and are not necessarily the fabric for the bag you are purchasing.  Please be sure to check the first picture, which is the fabric you are purchasing.***
---
We Also Recommend
---