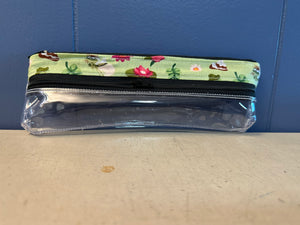 Toothbrush Bag - The Princess and the Frog
Toothbrush Bag
Whether on my bathroom sink at home or in a hotel room, a bit of toothpaste always seems to escape and make its way to places other than in my mouth.  I do not love cleaning up toothpaste, especially cleaning toothpaste from my large or medium travel bags.  Plus, the idea of my toothbrush coming in contact with all my other toiletries that I keep in my medium travel bag is not best, sanitarily speaking.  So, I decided to design a bag specifically for my toothbrush and toothpaste to solve that problem.
The toothbrush bag is approximately 9.25 x 3.25 x 1 inch, which easily holds a standard toothbrush and toothpaste.  There are 2 zippered pockets, a smaller one in the front to hold the toothbrush and a bigger zippered pouch for the toothpaste.  On the front side, there is a strip of adorable fabric on top of this clear vinyl bag.  The back is made up of entirely clear vinyl fabric to make cleaning easier.  It is great for the organized traveler in your life!
Thanks for cruising my shop!
Amy
*This listing is only for the bag-NOT for the contents of the bag seen in the pictures.*
**Fabric placement may be different from the picture shown, but it will be similar**
---
We Also Recommend
---