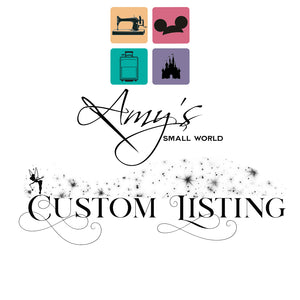 Custom Listing - Hanging Boxy Bag Set - Princess and the Frog
This is your one stop shop for your packing needs! This HANGING Boxy Bag Set includes: 1 X-Large HANGING boxy bag, 1 Large HANGING Boxy Bag, 1 Medium HANGING Boxy Bag, and 1 Small HANGING Boxy Bag in matching fabric.  
Here are the many ways you can use these bags to organize:
Outfits 

Shoes

Makeup

Minnie Ears

Hair Accessories

Toiletries

Electronic Cords

Wet Clothes

Toys

Baby Items
And so much more!
What sets the  Hanging Boxy Bag Sets apart from other packing cube or organizational bags is the hanging aspect.  It has a sturdy yet easy to open buckle that is similar to traditional fanny pack buckles. You can not only hang this bag on traditional hooks or hangers, but you can also use the buckle to attach it to practically anything like towel racks attached to the wall, strollers, or suitcases.  The hanging aspect was designed to save you more space on your counter of your cruise stateroom or hotel room. It is extremely easy to pack these bags, and even though the zipper is in the middle, things do not easily fall out even when shaken. Please be careful if hanging heavy things in this bag.
If you would like to see a demonstration of how these bags can be used as well as some shaking/hanging tests, please check out the youtube video I made by clicking the link below.
https://www.youtube.com/watch?v=b_Q3EAMOoLk&feature=youtu.be
To clean them, just wash them on the delicate cycle of your washing machine and hang/lay out to dry.  Do NOT put them in the dryer.
Thanks for cruising my shop!
Amy
*This listing is only for the bag-NOT for the contents of the bag seen in the pictures.*
**Fabric placement may be different from the picture shown, but it will be similar and look cute!**
***Some of the pictures are showing you how the bags are used and are not necessarily the fabric for the bag you are purchasing.  Please be sure to check the first picture, which is the fabric you are purchasing.***
---
We Also Recommend
---