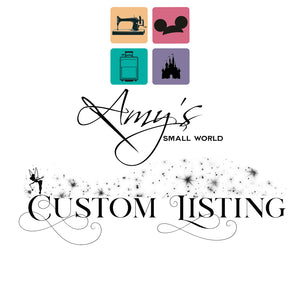 Custom Listing - Small Belt Bag - Brown Wall E and Matching Strap
This Small Belt Bag is perfect for an easy, hands free day at Disney.  It's small size means you can fit all of your essentials and not make it too heavy with anything extra.  It has one clear pocket in the front, designed to protect your cell phone from rain or Splash Mountain. And the main pocket is made of quilted fabric, which will be comfortable and add a little extra protection.  One the sides are two swivel hooks attached by elastic, so it can reach to attach to different belt loops on people of different sizes.
This bag is approximately 8.5 x 6 Inches.
Thanks for cruising my shop!
Amy
*Adjustable Strap Sold Separately*
*This listing is for the bag not for the contents in the bag*
*Fabric placement may be different than the picture but it will be similar*
---
We Also Recommend
---